Mendiant sur Paypal (Photo Insolite)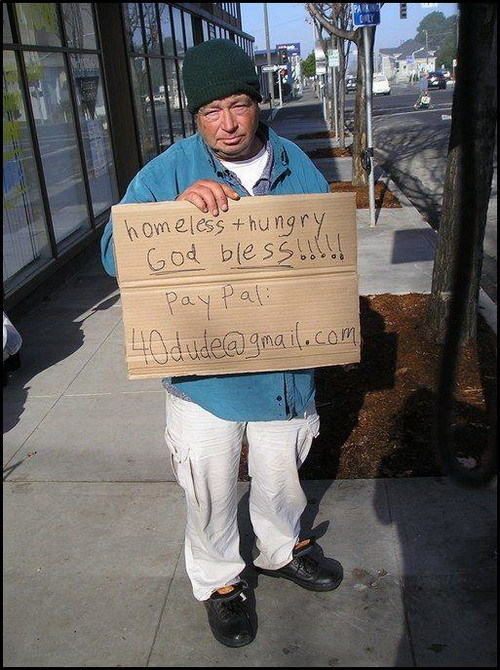 If you're new here, you may want to subscribe to my RSS feed. Thanks for visiting!
Mendiant SDF Paypal
Ce pauvre SDF n'a pas trouvé d'autres moyens que de demander l'aumone via Paypal
This entry was posted on Mercredi, octobre 14th, 2009 at 12 h 04 min and is filed under
Photos Insolites
. You can follow any responses to this entry through the
RSS 2.0
feed. Both comments and pings are currently closed.
7 responses so far!
[...] Ce billet était mentionné sur Twitter par reymonde_007, Guillaume Verstraete. Guillaume Verstraete a dit: RT @seoadsenseman: Un SDF mendiant 2.0 via Paypal http://minu.me/16vq (via @babozor) [...]

[...] This post was Twitted by babozor [...]

[...] This post was Twitted by reymonde [...]

[...] This post was Twitted by pschitrose [...]

[...] This post was Twitted by grabule [...]

[...] This post was Twitted by fdebailleul [...]

Il n'est ni le premier, ni malheureusement le dernier… (voir mon site)